.
Given the information we have, and the way Gary Bettman has handled his business in the past, a lockout seems to be inevitable. At this point it's more a question of how long it will take for the dust to settle, and for an agreement to be reached. Ideally, that would happen before Bettman's self-imposed deadline of September 15th. If that's not the case, then all we can do is hope that this turns out to be
more like '94
(season was shortened to 48 games), and
less like '04
(season was scrapped entirely).
The natural reaction is to be upset. As a fan, it sucks. You're telling me that I'm not going to have any hockey to sink my teeth into until December at the earliest (which is the word on the street)?
What am I going to do in the months of October and November? Have a social life, or something? That seems like a rather unreasonable thing to ask of me. You'll never believe this, but my mom's basement isn't all that lively. I'd be starting from scratch.
After having some time to mull the proposition of a shortened season over, though, I realized that there are a handful of legitimate ways in which the Canucks would stand to benefit from it. Below, are those very reasons. In no particular order.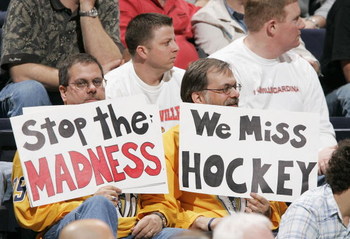 These guys are onto something!
Fool Me Once, Shame on You. Fool Me Twice, Shame on Me:
"I really felt that the game in Boston – for some reason – was such an emotional and challenging game, it was almost like playing a Stanley Cup Final game in the middle of the season, and from that point on I don't think our team ever really collectively got their emotions together."
That's a quote from Mike Gillis, after the Canucks were eliminated from the playoffs this past Spring. It's not like it came out of left field, or anything like that, either. Even as the Canucks were marching towards their second consecutive Presidents' Trophy, fans were growing impatient with the way the team was playing.
The offence dried up, and the Canucks were relying far too heavily on their goaltending. The term "
complacency
" was being bandied about. Which made sense, considering the Canucks were a team that had already been there and done that. They had nothing left to prove in the regular season.
I'm sure that there will be a concerted effort to make sure that the same thing doesn't plague the team next season. The issue will still be there, though. It's more a question of
when
it will surface, rather than
if
it will surface.
You know what could solve that? Taking the first 30 or so games out of the schedule. Suddenly the race turns into more of a sprint than a marathon. Obviously if the team goes through an extended rough stretch, things will get dicy. But you can't have it both ways. It seems reasonable to assume that the Canucks would be heading into the playoffs full-throttle, rather than having to "flip the switch" at the last moment. If I'm remembering correctly, that strategy seemed to work out pretty well for the last team standing this past season.
Let's Not Rush into Things. Let's Take it Slow:
We see it time, and time again. A young goaltender bursts onto the scene, and takes the league by storm. Expectations for the following season are great, and when the goalie winds up inevitably taking a step back, everyone wonders what the deal is.
Recently we have seen it with Corey Crawford, Jimmy Howard, and Steve Mason. Before that, Andrew Raycroft fell victim to it. The 'sophmore slump.' Back in April,
Pass it To Bulis touched on this very subject
.
No matter how good of a goalie you are, the league will wind up catching up to you. And what determines whether you flame out, or continue on to having a successful career is how well you can make the necessary adjustments.
Chances are that Cory Schneider will not be replicating his 1.96 GAA and .937 save % from last season. How far will he fall back? It's impossible to say, until we see it.
What we can say with extreme certainty is that the difference between starting 28 games, and starting 60-65 games, is gargantuan. Could Schneider become a workhorse next season, start roughly 65 games, and remain a stud for the Canucks? Sure. But you know what would be even better? If that didn't have to happen.
Schneider is smiling because that a shortened season would do him some good.
He's 26 years old, and has (knock on wood) a long career ahead of him. I personally feel no rush to see him take on that kind of a workload. If the season is in fact shortened, he could be afforded the luxury of starting in the range of 40-45 games, before taking that final step in 2014.
Leave No Man Behind:
"He's not ahead of schedule and there's no rushing him back. He's on course to return in December and he's not returning until he's 100 percent. Don't expect him until December."
That was Kurt Overhardt, Ryan Kesler's agent, refuting Mike Gillis' claims that Kesler was ahead of schedule in his recovery from offseason surgery.
Given the fact that it's Vancouver we're talking about, this resulted in an uproar.
Is there a rift between the Canucks and Kesler's camp? Is he on his way out? What am I having for lunch?
All worthwhile questions, no doubt.
For me, that quote is encouraging. It's no secret that Kesler needlessly rushed back last season, and was never really 100%. While
he wasn't nearly as bad as people would have you believe
, he still wasn't the Ryan Kesler of old.
There's no need for him to rush back from this surgery. His most important contributions to the Canucks will come in the Spring, as the team attempts to work their way through the playoffs. If he's not firing on all cylinders, the Canucks don't stand a chance. They need another herculean effort, like the one we saw in 2011. And getting healthy is the first step towards ensuring that.
Speaking of being ready to go come playoff time, the extended break would surely do the Sedins some good. Henrik hasn't missed a game since the lockout, which is a remarkable accomplishment. But the mileage on their bodies is beginning to accumulate. They take an absolute beating from the opposition on a nightly basis, and do all of the heavy lifting for the Canucks in the scoring department. Having the Sedins with fresh legs could make all the difference.
Learning From Those Who Came Before Us:
As a fan of all sports, I just went through this entire process with both the NFL, and the NBA. Both leagues wound up resolving their situations without having to throw away a full season - the NBA underwent a condensed 66-game schedule, and the NFL retained their standard regular season schedule - but there was a price to be paid. And there were lessons to be learned.
The teams that suffered the most were the young, inexperienced teams, who hadn't been together as a group for all that long. The older teams, that had already established continuity, and chemistry prior to the lockout? They succeeded.
And that's exactly what the Vancouver Canucks have going for them. They feature a core that has been together through it all, and a core that won't be phased by the inevitable change in rhythm due to the shortened schedule.
We need to be careful what we wish for, though. If the full 2012-13 season were to be scrapped, it would be devastating for the Canucks. They are created to win right now, and every year that passes without a Stanley Cup stings, on a whole number of levels. The clock is ticking.
In the case that we don't have any hockey to look forward to until December, I leave you with the video below as a parting gift. You can play it whenever you wish, and pretend the Canucks just scored a goal:
.